GirlsDoPorn.com Review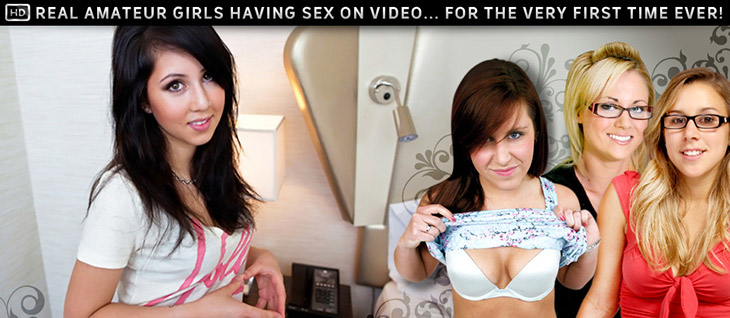 In a world where every mundane activity that we undertake is shared with the masses through social media, it's a true frustration that finding authentic amateur porn can be next to impossible. Well, fret no more, oh lover of real life smut, because Girlsdoporn.com is here to scratch your itch!
Upon visiting Girlsdoporn for the first time, you're greeted by a very reassuring and exciting feature on the very first page. In the upper right hand corner, there's a submission form that absolutely any girl in the world, provided she's of legal age, can fill out to be considered for her very own porn shoot. By simply filling in her information, uploading a few photos and proving her birthdate, the girl next door can be featured on your computer screen, enjoying her very first recorded sexual encounter, and that is simply a thing of beauty.
Rather than trying to appeal to every single sexual appetite out there, like so many other sites try to do, Girlsdoporn does one thing and they do it extremely well. They put incredibly attractive, amateur teens in front of the camera for their first pornographic experience and let you take the ride with them.

Members Area Screenshots
100% Exclusive Girls | 2 Updates per Week | 300+ Videos | 2,500+ Hours of Content
Two of the best features on the site are the "Deleted Scenes" and "Behind the Scenes" sections that offer not only a more in depth view of your favorite girls before and after their sex scenes, but they also show videos that simply didn't make the cut. Whether the girl was too nervous or just not mentally prepared for her porn debut, these sections prove that, unlike almost every other site out there, these girls are real and they're spectacular.
Pros:
– Multiple download options let you choose the best quality for your internet speed and drive space.
– All of the models seem like true amateurs who are appearing on camera for the very first time. The "Deleted Scenes" and "Behind the Scenes" sections make this abundantly clear and make the site worth a visit on their own.
– Longer video lengths give you unfettered access to each and every one of the girls. Besides being able to hear what these real girls have to say in the interview segments, you also get to watch them prepare for and clean up after their sex scene, which makes the experience all the more authentic.
Cons:
– With no search bar, trying to find what you're in the mood for can be a challenge. Aside from the three main categories, your only option is to choose a pre-generated tag word from a drop down menu.
– Although the girls are varied, the videos themselves are not. With the same basic structure for each, you can find yourself skipping around a lot.
– Navigation can be clunky. If you're interested in browsing videos with a specific tag, such as "Threesome", you'll get a list of videos, but once you click, the tag that you're searching under will all but disappear. There'll be a "related videos" list to the side, but only a few will be from your initial tag search.
– No Pictures.

Verdict 8.0/10
Although the price tag is a bit hefty at $30/month, you simply won't find this kind of authentic material anywhere else. Girlsdoporn.com is well worth the investment and you'll never look back.