DDFNetwork.com Review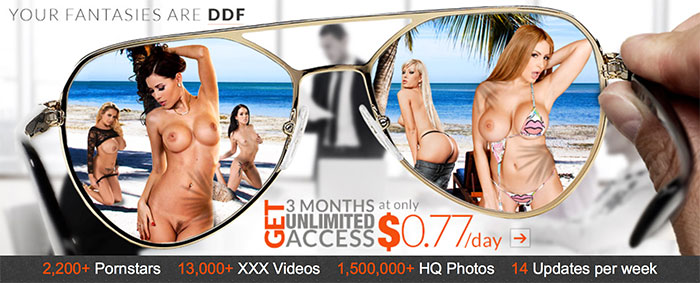 Do your tastes range from the mainstream all the way to the bizarre? Do you find yourself wondering how far you can follow your fantasies? Well, then strap on your walkin' shoes, Alice, because we're going down the rabbit hole that is DDFNetwork.com and we won't be back for a very long time!
With a network of sites that range from the classic "DdfBusty" to the more niched "Hot Legs and Feet" all the way to the naughty "House of Taboo", DDFNetwork certainly has something for everyone and every member will be able to appreciate having so much material at their fingertips.

Members Area Screenshots
DDFNetwork
has made every site cross searchable, so finding exactly what you want to see is a true pleasure. You simply add the tags you want from the network's drop down menu, and then choose which sites you wish to be searched and all of the content you could every want will magically appear like the Cheshire pussy for an evening that you'll never forget.
Sample Photos
Not only does the network seem to pride itself on having as much varied content as possible, it also does a superb job of organizing every bit of it.
Within every individual site, you can go through a timeline at the top of the page that will contain every piece of material that they host, filed under, not only the year, but also the month that it was published. Better yet, every grouping of month and year is organized by the quality that you expect in the video. For instance, anything after 2010 can be viewed in High Definition, while anything before it available in HDV and so on. Having so many options is amazing and having them all organized is a dream.
1,500,000+ Photos | 14 Updates per Week | 2,200+ Pornstars | 13,000+ Full Movies
Pros:
– With a huge network of sites, there's no doubt you'll be able to find plenty of content that you love.
– The two tiered search function works like a charmed. Simply choose however many of the sites you'd like to search on the left and then choose whichever tags you'd like to check out on the left, and viola, every video is at your disposal.
– Once you find your favorite models, you can browse through every one of their videos, no matter which site in the network happens to host them, with one click.
Cons:
– Not every video has the "Skip to Action" feature which is something that once used; you'll wonder how you ever lived without it before.
– Much of the content is shared between two or more of the networks sites, so you can expect to see the same titles pop up in your searches.
– A few of the sites lack a real amount of archived material, although each one will list how many videos and pictures you can expect to find it, so you'll know what you're getting.

Verdict 9.8/10
Whereas some sites cater to people with specific tastes,
DDFNetwork.com
is more of an all you can eat buffet. With a cost of $13.99/month if you opt for the twelve month billing cycle, you really can't go wrong with the amount of content and frequent updates that this site offers. The best part is that no matter what you may be in the mood for in the future, DDFNetwork is sure to have it. At the end of the day, it's best to think of this network as more of a lifetime relationship between you and all things adult. Take the plunge and ask DDFNetwork to be your life partner in porn today!