Babes.com Review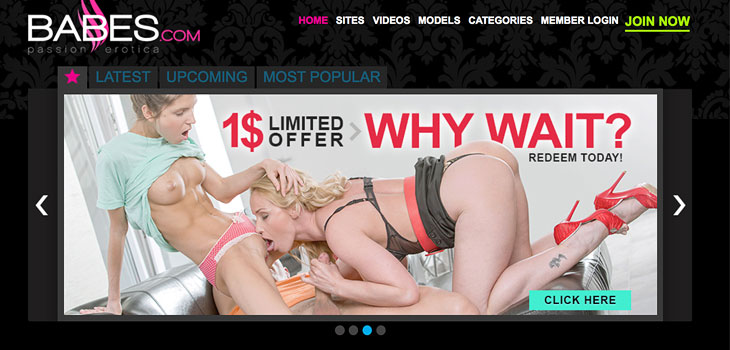 What would you get if George Lucas teamed up with Steven Spielberg and a huge stable of some of the most attractive people in the world to make porn? Well, you'd get babes.com!
Not only is the name easy to remember, but it also tells you exactly what you're going to get. With models ranging from a solid 9.5, all the way to a perfect 10, you'll never want to bother with poorly produced, low quality adult sites again.
Members Area Screenshots
Once you get into the videos, you can't help but realize that all of the models that they've recruited are real professionals who know exactly how to practice their art in a way that gives the viewer the absolute best bang for his or her buck (pun intended). These specimens of physical perfection are clearly enjoying what they're doing and that makes watching them all the more exciting.

Sample Photos
The ladies are not your typical, poorly paid semi-professional fornicators out to make a quick paycheck.
They present themselves as true performers on a stage who cater to refined adult proclivities and take themselves and their work very seriously. The gentlemen, not to be outdone, are in the moment with their partners and display real connections that come across beautifully on camera.
The production values of each video rival even the highest budget cinema. Glamorous videos with great sound come together in videos that aren't afraid to deviate from the somewhat puritanical sex acts that seem to dominate this market.

400+ Pic sets | 2240×1680 Pic resolution | 100 Pics per set | 400+ Movies | HD porn
Even though the budgets are high and the models professional, you still get to see all of the sloppy facials and anal creampies that your deviant little heart desires. And, yes, the sex acts are real and they're spectacular. If you're looking for the fake, soft core movies that usually show up on skinamax at two in the morning, then keep on looking. Having a high budget doesn't mean that the sex can't be dirty.
In short, if you like highly produced adult videos featuring gorgeous models, then babes.com is the site for you. At the very reasonable price of less than nine dollars per month, there is very little that can go wrong when you make the decision to sign up. Do yourself and your libido a favor and at least spring for a day pass. It only costs a dollar and was probably going to end up in a stripper's thong anyway, right? Great with cost and with quality, babes.com is an elegant porn site for a more civilized wank.

Cons:
– Due to the staggeringly high video quality, a fast connection is necessary. However, you can get around this problem by simply taking advantage of the download option for each video or adjusting the quality.
– The polished, highly produced quality may be a turn off to people who prefer the webcam or voyeur feel, so just know what you're getting into.
– No advanced search.

Pros:
– The site is full of wonderfully produced videos streaming and downloadable in High Definition. The quality is truly remarkable.
– Exclusive content with frequent updates.

Verdict 8.4/10
All of the models are gorgeous and enjoy what they're doing. Little else really needs to be said.
The site will appeal to private viewing for men and women as well as couples. There's really something for anyone who enjoys beauty.